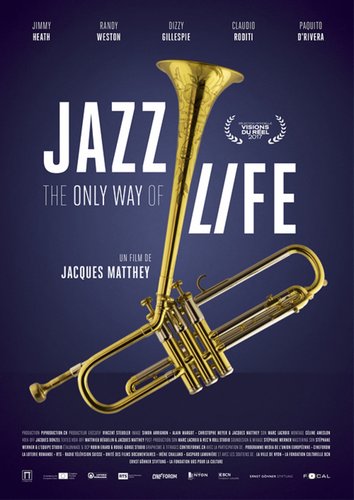 Jazz, the only way of life
versione originale, sottotitoli italiani
Regia di Jacques Matthey
Musicale | Svizzera, USA | 2017 | 75'
Con Randy Weston, Paquito D'rivera, Claudio Roditi, Jimmy Heath, Jacques Muyal
Un ritratto musicale del produttore svizzero Jacques Muyal, un viaggio attraverso la musica che abita gli scaffali dei suoi archivi privati: da Charlie Parker, a Dizzy Gillespie, Oscar Peterson, Claudio Roditi, da Jimmy Heath,  Randy Weston, Paquito D'Rivera a Roy Hargrove, Roberta Gambarini. 
Jacques Muyal ha legato amicizia con i più grandi nomi del jazz. La sua casa a Nyon ha tutte le caratteristiche di un piccolo e ricco museo del jazz ed è il luogo che ha ispirato il documentario Jazz: the only way of life  del regista Jacques Matthey, presentato al Visions du Réel di Nyon. 
Il ritratto di quest'uomo discreto viene disegnato nel film attraverso le immagini d'archivio e le interviste  di grandi musicisti jazz, oltre che ai filmati girati dallo stesso Muyal durante il suo lungo soggiorno negli Stati Uniti.  Una passione che l'ingegnere svizzero ha coltivato con costanza, dagli esordi come animatore radiofonico fino a portarlo ad incontrare nomi pregiati del Be-bop, come il trombettista Dizzy Gillespie e il pianista Oscar Peterson e a produrre su video alcuni tra i più significativi concerti del Festival di Montreaux. 
Limite di età: 16 anni
---
Entrata
CHF 10.- con Lugano Card 
---